Cerum™ is a topical Vitamin C serum formulated to reverse the signs of aging and for skin repair. Vitamin C is clinically proven and highly effective in the treatment of rosacea, acne, damaged skin, and post surgery/laser treated skin. On the surface, it moisturizes the skin and makes it more resilient to aging factors and environmental damage such as UVA and UVB rays. Below the surface, Vitamin C rebuilds damaged collagen and works to neutralize damaging free radicals. The result is more youthful looking skin and the ability to keep it looking that way.

Without stabilization, Vitamin C rapidly loses its effectiveness. Many companies have tried and failed to properly stabilize Vitamin C and turned to less effective forms which are easier to stabilize.
At Prollenium® we have been successful in stabilizing a 17% concentration of L-Ascorbic Acid in Cerum™ by suspending it in an encapsulated hydrocarbon cross-polymer gel network. This revolutionary gel network significantly extends stability and enhances ease of application and moisturization making Cerum™ one of the most potent Vitamin C preparations available.

The Microsponge® delivery system utilized in Cerum™ is yet another advantage as it allows for a sustained release of Vitamin C over time, reducing irritation and allowing the anti-oxidants to gradually absorb into the skin without degradation due to oxidization.


Benefits of Cerum™: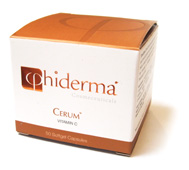 • 17% Vitamin C (L-Ascorbic Acid)
• Moisturize with Hyaluronic Acid
• Antioxidant Nourishment
• Dermatologist tested for safety and efficacy
• Collagen Synthesis